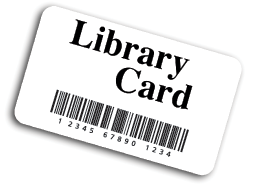 Getting a Library Card:
If you are a town resident, you are eligible for a free library card. Please bring in one of the following and you will be able to check items out that day:
      • Vehicle Registration
      • Utility Bill
      • Lease
      • Rental Receipt
      • Mortgage, Deed or Tax Bill
Children (age 5-18) are eligible for a library card; a parent or guardian's signature is required.
If you live out of town, you may purchase a non-resident card for $50.00. The card is good for one year.